Grant Writing Training 8 January 2020
Writing Research Grant Proposals Workshop
8 January 2020, 2-5 pm
National University of Mongolia Library, Ulaanbaatar
On the 8th January 2020, we will hold a training in Ulaanbaatar on Writing Research Grant Proposals. The training will be held in English. The training is open to academics and non-academics who are interested in collaborating with Universities and research institutions.
This workshop will teach how to write a research grant proposal for funding bodies in the UK.
The session will provide you with information about current funding available in the UK,
eligibility criteria for application and the application procedure. Additionally,the workshop
will focus on elements of writing a good proposal.
Таныг Оксфордын Их Сургуулийн Газар зүйн факультетаас зохион байгуулж буй "Их Британи дахь санхүүжүүлэх байгууллагуудад эрдэм шинжилгээний судалгааны тэтгэлгийн саналыг хэрхэн бичих вэ?" сэдэвтэй семинарт урьж байна. Уг семинар нь Их Британид одоо идэвхтэй байгаа санхүүжилт, тэтгэлэгт өргөдөл гаргахад шаардлагатай мэдээлэл, журмын талаар дэлгэрэнгүй мэдээллийг өгөх болно. Сургалтыг Оксфордын Их Сургуулийн Газар зүйн факультетын профессор хатагтай Ариель Лигхам удирдан явуулах бөгөөд чанартай сайн судалгааны саналыг хэрхэн бичих талаарх нарийн элементүүд дээр голчлон төвлөрөх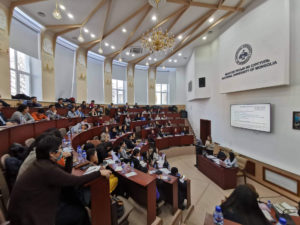 Please download the slides here: